De Cayenne Chilli Variety
Chili de Cayenne is a popular and widespread chilli variety. Adult plants are 60 to 80 cm high and carry many thin-fleshed pods. Their chillies are often dried and ground into cayenne pepper. Goulash, stews and chicken get a tasty spice with the chili spice.
Capsaicin stimulates the heat receptors in the mouth during meals. It tastes hot, but actually our nerves report a pain signal.
Chili Cayenne plants is a Capsicum annuum species and belongs to the nightshade family. Annuum means annual in botany. However, cayenne plants grow older than twelve months when properly cared for and wintered.
The origin and name of this chili variety lies in the city of Cayenne in South American Guyana. In 1498 the coast of Guyana was discovered by Christopher Columbus. Cayenne City was later founded there by French settlers. It is too likely that this spice will be exported from the port city of Cayenne to Europe and therefore bears the name.
Because of its shape and origin, de Cayenne chilli is also called cow horn, Guinea chilli or "Spanish pepper". The slightly smoky and bitter taste is excellent for sauces. The thin-walled chillies are easy to dry.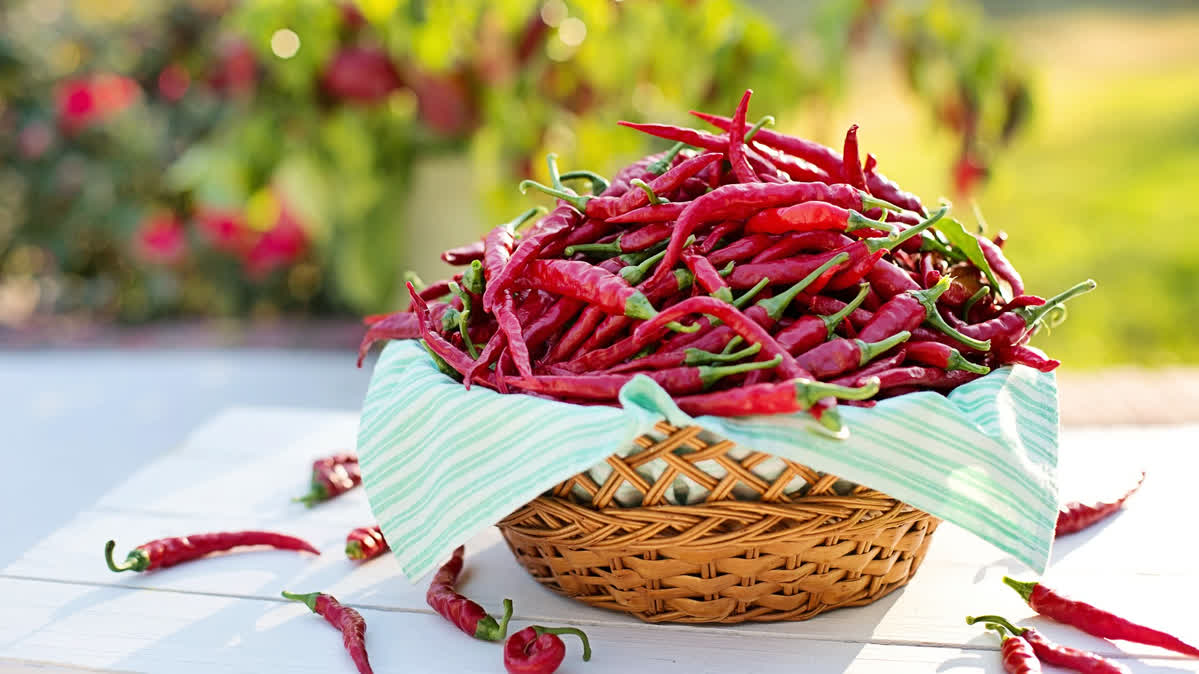 The chillies have a medium to high sharpness of 30,000 to 50,000 Scoville. On a sharpness scale the chili is often marked with a sharpness grade of 8.
You can dry Chili de Cayenne well and grind it to powder. Halved pods are dried in the oven or drying appliance. If the oven is slightly open, it takes about 6 – 8 hours at around 70 °C. The drying time is about 6 – 8 hours. Then grind in a universal mill or by hand with a mortar.
You can determine the degree of sharpness yourself before drying. Remove their chilli seeds and scrape out the placenta wall with a knife. This is where most of the Capsaicin is to be found. For storage, add a few grains of rice to the dry spice powder. This prevents clumping due to moisture.
The dried chili peppers are also ideal to make chili oil yourself. In a clean bottle add the dried peppers until a layer of about 5 cm is formed. If you like, you can also add garlic cloves and mustard seeds. Pour over good olive oil, sunflower oil or peanut oil for Asian cuisine. Store the mixture in a dark and cool place. Shake every two days. In one week you will have excellent chili oil.
Remove styles from fresh cayenne pods. Cut several times laterally. Bring salted water to the boil with vinegar and add chillies or peppers. Simmer for about an hour. Pour the hot broth into preserving jars for preservation.
Cayenne pepper and chilli oil are perfect for seasoning Mexican and Asian dishes. Cayenne is used classically in Cajun cuisine. Cajun cuisine is the cooking style used by French immigrants in Guyana, among other places. In the sometimes fiery and spicy Chinese cuisine, vinegar is often used for preserving.
Fresh cayenne pods contain vitamins A, B6, E, C and riboflavin, potassium, iron, copper and manganese.
In most online shops for chillies you can get seeds of the famous chilli variety. In spring also in DIY stores or discounters. Ten Cayenne seeds cost about two euros. Under normal conditions, eight out of ten seeds grow.
Before you plant the chili seeds, it is better to soak them in lukewarm water. It can also not hurt to use chamomile tea or diluted lemon juice instead of water. A germination temperature of 22 to 28 °C is ideal. The germination period is 6 to 20 days. Our Cayenne chili seeds germinated in the mini greenhouse on the 12th day.
You should start growing them early in the year. If there is enough space in the apartment, it is advisable to grow it in January or February. After an acclimatization phase, the small cayenne plants can be planted outside in mid-May.
Coconut spring tabs are a good substrate in the nursery. A cultivation soil in a flower box is well suited. The soil should be permeable. Chili plants will soon shrink in stagnant water.
A sunny location is important both indoors and outdoors. Cayenne chili varieties need at least eight hours of sunlight.
The young plants should be isolated or pricked at a distance of 40 cm. A nutrient-rich tomato soil is perfect as a plant substrate. The soil should have a pH value of 6.2 to 7.0. Chillies like the sun. Make sure that the new location gets as much as possible ten hours of sunlight.
Capsicum annuum does not like extremely hot weather, even less cold, wet weather. In autumn, you can hollow chili plants into the house for wintering.
Already after three months after flowering you can harvest spicy fruits. The pods have little flesh. The 10 to 20 cm pointed chillies are long and slender.
Don't get impatient if their pods stay long green. Only the fully developed chilli changes its color from green to yellow to red.
| Variety name | Cayenne |
| --- | --- |
| Species | Capsicum annuum |
| Origin | Guyana |
| Plant size | 60 - 80 cm |
| Maturing period | 70 days |
| Scoville | 30,000 - 50,000 SHU |
| Germination period | 6 - 20 days |
| Germination temperature | 22 - 28 °C |
| Planting distance min. | 60 cm |